Color: Pink, Fuchsia, Brown
Hardness: 6
Main producing areas: USA, Sweden, Russia, Australia, Brazil, Mexico
The name Rhodonite comes from the Greek word "rhodon" – rose, which is a beautiful ore with the coexistence of black and red. Among the Rhodonite mined worldwide, the most famous one comes from Australia. It is bright red and has few impurities, so it is called the Imperial Rose, and It is one of the best gifts for lovers.
Rhodonite contains a lot of manganese so it can form a bright pink color. If it contains iron, the part will turn reddish brown or even black manganese oxide, so it isn't easy to find a piece of entirely red or pink Rhodonite. In addition, Rhodonite is relatively fragile and easy to damage, so it needs to be stored carefully. Choosing necklaces or pendants is recommended, and try to avoid bracelets that are easy to wear when purchasing.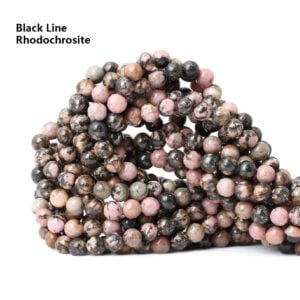 Rhodonite is a healing stone in the triclinic system, especially for love wounds. When people are in the process of falling in love, they are almost completely defenseless psychologically. Whether it is emotional interaction or life changes when we fall in love, we are fully invested until the other party or we want to break up.
In this process of serious devotion, there may be many moments when we have to go against our own will or do certain things to meet the other party's requirements. Such a process is a significant drain on our psychic energy, especially when you have to do something you don't like.
The power of Rhodonite is to go deep into our spiritual world, smoothe the sacrifices made in love in your heart, heal your love wounds, and help you feel your love. Because Rhodonite contains manganese, it can bring happiness and beauty and let us experience the true meaning of love.
Rhodonite corresponds to the heart chakra and can heal the navel chakra.
On life's journey, we may find that the person we love is not someone or that the other party does not love us. These blows may leave considerable trauma to the heart chakra. Since the energy of falling back in love with someone is as intense as the grief of breaking up, each of our relationships has been a challenge and a process of rediscovering ourselves.
Rhodonite can help us deal with the trauma of love, relieve the pain of being betrayed, and let us find that no matter how many setbacks we experience, we can still love others because love is the nature of human beings.
Rhodonite can also heal the trauma of domestic violence or any sexual violence. For children who have experienced these shocks in childhood, Rhodonite is as warm as a mother who stretches out her arms and hugs her.
Users can wear Rhodonite to harmonize their energy, exude their charm, or improve their complexion. It is a famous love stone in Australia that can enhance your charm and let you find your true love.
During healing, Rhodonite can help those unable to recover from emotional trauma more quickly understand that they still can love and be grateful for past relationships. And it can also help people who have suffered any form of violence to find their love again.
The relationship is not going well
Dispute with lover or family
Refuse to express one's feelings
Want to increase your charm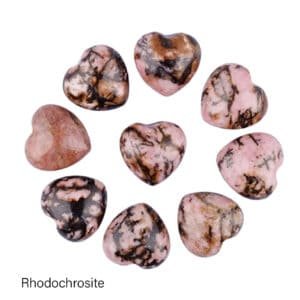 Thank you for reading. I wish you can benefit a lot from my post. You can share your opinions or stories with us, we can discuss them together to help you find the right solution.
I'm Alice, the founder of Dglife Store, we are the best healing crystals supplier in China. If you need any help with purchasing healing crystals, feel free to contact us or order on our website directly.