Choosing a supplier for wholesale chakra jewelry can be a daunting task, especially if you are new to the industry. There are many factors to consider, such as quality, price, customer service, and the supplier's reputation. This article will discuss the steps you should take to find the right supplier for your business.
Step 1: Research the Market
Before you search for a supplier, it is important to research the market and understand the trends in the chakra jewelry industry. This will give you a better idea of what types of products are in demand and what you can offer your customers. You can start by visiting trade shows and exhibitions, reading industry magazines, and conducting online research to stay up to date with the latest trends.
Step 2: Determine Your Requirements
Before you start contacting suppliers, it is important to determine your requirements. This will help you narrow your search and ensure that you find a supplier that can meet your needs. Consider the following factors when determining your requirements:
Product Quality: Chakra jewelry is often worn for its healing properties, so it is important to ensure that your products are high quality. It will help if you are looking for suppliers with high-quality materials and strict quality control measures.

Price: Wholesale chakra jewelry can range from very cheap to very expensive. Finding a supplier that can offer products at a price point that works for your business is important.

Lead Time: The lead time is the amount of time it takes for the supplier to produce and deliver the products to you. It would help if you looked for a supplier that can meet your lead time requirements, whether you need products delivered quickly or you can afford to wait a little longer.

Minimum Order Quantity: Most wholesale suppliers will have a minimum order requirement, so it is important to find a supplier that can meet your needs in terms of quantity.

Customer Service: Good customer service is important when working with a supplier, as you may need to communicate with them regularly to resolve any issues or place additional orders. You should look for a responsive, helpful supplier, and easy-to-work with.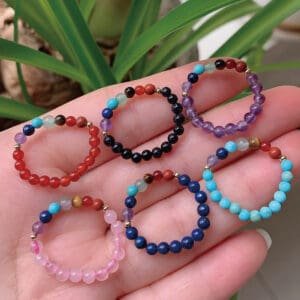 Step 3: Search for Suppliers
There are several ways to search for suppliers of wholesale chakra jewelry, including:
Online Marketplaces: Online marketplaces, such as Alibaba and Amazon, are a great place to start your search for a supplier. They offer a wide range of products from suppliers worldwide, making it easy to compare prices and find a supplier that meets your requirements.

Trade Shows: Trade shows are a great way to meet suppliers and see their products up close. You can attend trade shows in your local area or international trade shows if you want to import products from overseas.

Industry Magazines: Industry magazines, such as Bead & Button, offer a wealth of information on suppliers, as well as new products and trends in the chakra jewelry industry.
Step 4: Evaluate Potential Suppliers
Once you have a list of potential suppliers, it is time to evaluate them to determine which one is the best fit for your business. Consider the following factors when evaluating potential suppliers:
Product Quality: As mentioned earlier, product quality is important when choosing a supplier. You should request samples from each supplier to get a better idea of the quality of their products.

Price: Compare prices from different suppliers to determine which offers your business the best value. Remember that the cheapest supplier may not always be the best option, as they may cut corners on quality.

Lead Time: Check with each supplier to determine their lead time and delivery schedule. This will help you decide whether they can meet your needs in terms of delivery and whether they will be able to deliver products on time.

Customer Service: Ask each supplier about their customer service policies and procedures. Find out if they have a dedicated customer service team and if they are available to answer questions and resolve any issues you may have.

Reputation: Research each supplier's reputation by reading online reviews and asking for references from other businesses. This will give you a better idea of how they treat their customers and whether they have a good track record in the industry.
Step 5: Negotiate and Finalize the Deal
Once you have chosen a supplier, it is time to negotiate and finalize the deal. This includes discussing prices, lead times, payment terms, and other details related to the transaction. It is important to have a clear and detailed agreement in writing to avoid any misunderstandings or disputes down the line.
In conclusion, choosing a supplier for wholesale chakra jewelry requires careful consideration and research. By following the steps outlined in this article, you can find a supplier that offers high-quality products at a fair price and provides excellent customer service. With the right supplier, you can build a successful business selling chakra jewelry and meet your customers' needs.
Thank you for reading. I wish you can benefit a lot from my post. You can share your opinions or stories with us, we can discuss them together to help you find the right solution.
I'm Alice, the founder of Dglife Store, we are the best healing crystals supplier in China. If you need any help with purchasing healing crystals, feel free to contact us or order on our website directly.